Thank you for clarifying that choosing a group from a different section will MOVE the post to that section.  That was/is not obvious.
I knew you could move a post (or bulk posts) from the overview: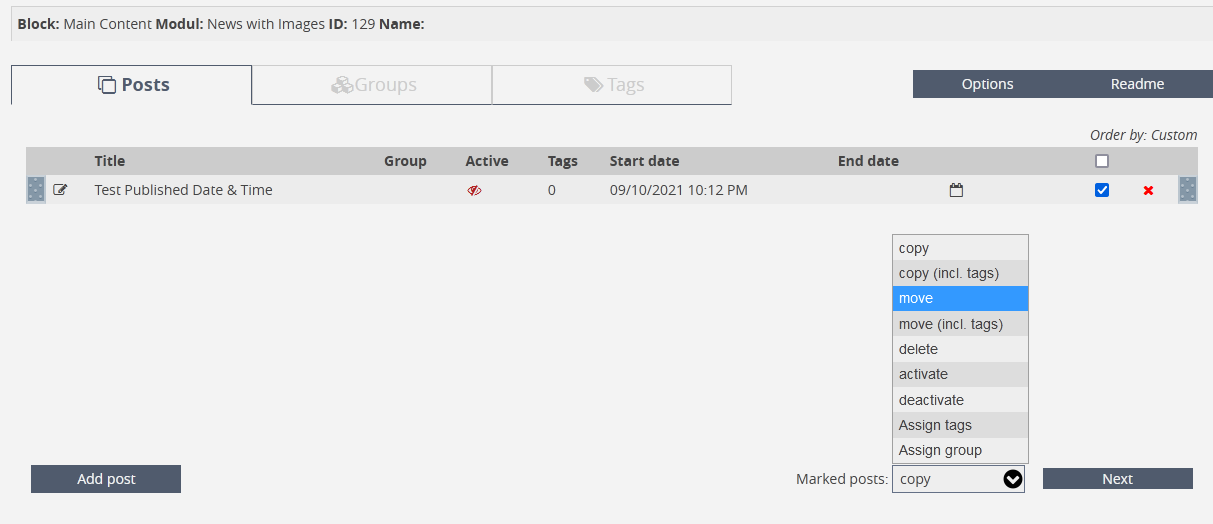 My confusion comes from the way that the Groups are designated from the OTHER sections.
In my image from my first post above you can see the current section of the NWI post I am editing is - Section #130
Then it lists the only other Group in Section #130 - "testgroupid30 (Section #130)"
Then below that is "--Page News (2)--" - followed by the Groups from the NWI section (section #4) on that page:
The first Group is "None (Section #4) - That makes sense to me, this will move my post to the NWI section #4 (on Page News (2)) without any Group designation.
But then following that is the list of all the Groups from section #4, but they all have (Section #130) beside them.
Should these not display as:
E-Sports (Section #4)
Junior Football (Section #4)
Senior Football (Section #4)
...etc...
So that it is obvious that you are MOVING your post to a different section?
The way it currently displays, gives the impression that you are changing the group designation, but the post will remain in it's current section.
I hope this helps clarify my point.
Last edited by losttrip (13.09.2021 18:02:22)