I'm not trying to sound impatient, but does anyone know if Chio is still active on the forum, or developing this module?
I have a couple of questions.  The default frontend displays like this: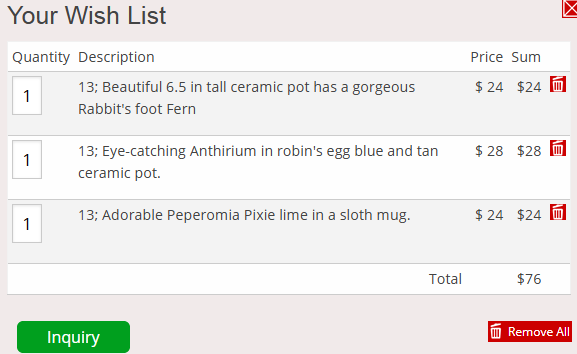 First question - How can I safely remove the PAGE_ID "13;" from the beginning of the item Descriptions?
Second question - The shop I am working on only sells unique one-of-a-kind items.  So, there is never a need for the option of Amount / Quantity of a single item.  They will always only be buying one (1) of any item.  So, I am trying to remove the unnecessary table data.
I tried changing the "$preiszeigen" to "false" in config, but that removes all the pricing elements, so that is not ideal, as I still want to show the item prices, and if possible, the Total Cost (this Total cost would be nice but is not crucial).
Then, I edited the config, changed "$preiszeigen" back to "true" and changed mengezeigen (I know it says "for later" but I was just playing to find a solution) field to "false", like so:
<?php
$jquery_string = '.wish_list_title';
$preiszeigen = 'true'; //true or false
$preiswaehrung = '$'; 
$mengezeigen = 'false'; //$preiszeigen; //Show quantity //for later...
$form_field_page_id = 14;
$form_field_jquery_string = '.miniform #message';
?>
But that resulted in this frontend output:


This would be fine, if I could remove the "sum" column.  Is there a safe way to do that?
Ideally, I would like to have the "Price" and the "Total" below, but I am not looking to re-write the module for my specific needs, as I want the module to remain safe for future upgrades.
Any direction would be greatly appreciated.
Last edited by florian (01.10.2019 10:20:51)